Wednesday we left for our vacation.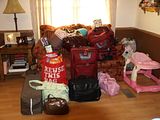 We left the house at 10:30 am to
head to Richmond, Indiana to our hotel.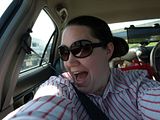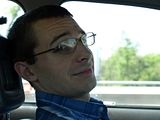 We
arrived at our hotel at 2:30pm. It was nice to drive during the day because mostly we drive at night!


Our pastor was in revival in Connersville, Indiana so we went there to be in service with them Friday night. After service, we all went to McDonalds to eat.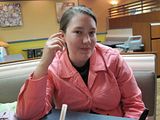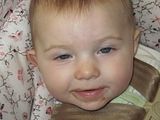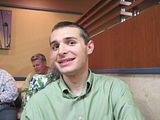 we

We didn't get back to our hotel until 1:30 am!
We were very tired!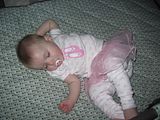 Saturday, we decided to go to Cincinnati to go to this shopping outlet we found online.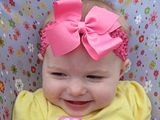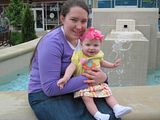 My brother and his wife
live close to Cincinnati so we called them to see if they wanted to meet up and go out to eat. They were over an hour away but came anyway. I hated that they had to drive that far but it was
really nice to see them again.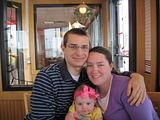 Earlier that day, some people we know in New Castle, Indiana had invited us to their house that night to eat. After we got to the hotel and rested a bit, we went to their house. They are a really nice family and treated us just like their family.

After we ate, we all walked to a park that was close to
their house. It was the neatest park I have ever seen! The play ground was a huge castle with all kinds of tunnels, and slides. I forgot to bring my camera so I wasn't able to get any pictures.
We got back to our hotel at 11:00pm and was able to get a good night's sleep. Well, as good as you can get in a hotel anyway.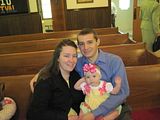 Sunday, we went to the Hisel's church (the family we ate with on Saturday night) in New Castle. We stayed with them all day so that we could go to their church again Sunday night. We really appreciate them asking us to stay with them on Sunday. We had a lot of fun. We ate an awesome meal and then Trinity and I had an awesome nap!! Nothing like those Sunday afternoon naps!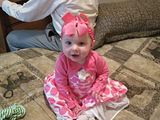 Sunday night, we had a really good service. Bro. Hisle asked Steven to preach. The title of his message was "Mountain Move".

After service, we went to eat at Steak And Shake.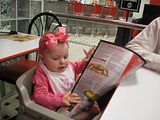 was the first time

It was so good. This was the first time

we had ever ate there

.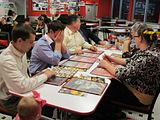 We left their house at 11:00pm to head to Union, Illinois to see Steven's grandmother. We had a very uneventful trip, thank the Lord! The only thing was that we got lost in Gary, Indiana. I have heard that, that is one of the most dangerous places in America. I don't know. I think the crime rate is really bad or something. Anyway, it was 2:00 am and the GPS told us to turn right and when we did, we were under a bridge that said " No Trespassing". That was a little bit scary!

We arrived at Steven's grandma's house at 4:00am. We had no clue which house was hers so we had to call them. We finally got in and was able to get some sleep. I think we slept until 10:00 am
and them got up and talked to Steven's grandma some.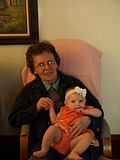 She was so excited to get to see Trinity, her first great-granddaughter, for the first time.

We decided to go to Chicago to go to the Shedd Aquarium and the Lincoln Park Zoo.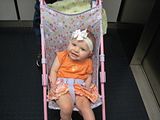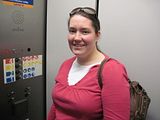 We went to the aquarium first.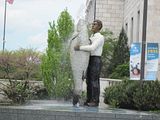 I was so excited to go but it didn't turn out that great.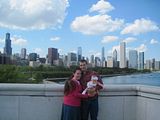 The aquarium was right next to Lake Michigan so we were able to see the
beautiful lake.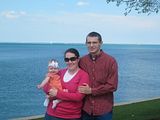 It looks just like the ocean! I was able to get some really
good pictures of Trinity and this seagull that apparently loves people.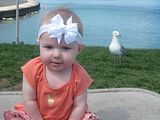 While we were trying to get Trinity's pictures, someone yelled to us "Your stroller in rolling down the hill!!". Steven ran and got it but yeah, Trinity's stroller and all our stuff about ended up in Lake Michigan!

We had to park a long way from the aquarium and we couldn't find where we parked. It took us probably an hour and a half to find our spot! It was then too late to go to the zoo so I wanted
Steven to drive downtown so that I could see all the huge buildings!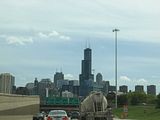 Chicago is a completely different world from Kentucky!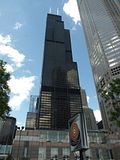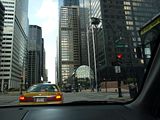 Steven got a gift card to Sonny's BBQ for his birthday so we wanted to eat there. Well, we typed "Sonny's BBQ" in our GPS. The closest one was 30 minutes away. Once we got there, we didn't find Sonny's BBQ, but rather Sonny's Hot Dogs! Never trust your GPS!

Tuesday, we wanted to not do much so we just hung around the house. We walked to a park
nearby and then drove to a town nearby but that was about it.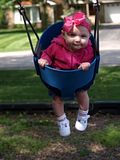 Wednesday we woke up early to pack up our stuff and head back toward Kentucky. We stopped
by the Lincoln Park Zoo on our way home.
It's an awesome zoo!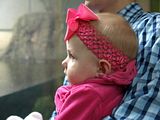 We all loved it especially Trinity!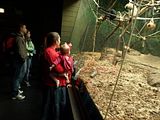 Her favorite
animals were the monkeys and the river otter.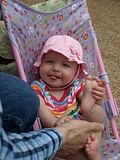 We left the zoo around 2:30 to go home. Again, another uneventful trip, praise the Lord! We got home at 9:00pm and we were so glad!

We had a good vacation. It was a lot different with a baby but it was so much more fun! Trinity was the best traveler and I think she really enjoyed her first vacation!

Thank the Lord for a safe trip!