Today has been a wonderful day! I have had a lot of fun. First, my mom, Trinity, and I went to some yard sales. We didn't find much. Then I went to my niece's house while they were swimming and let Trinity sit on the side of their pool and put her feet in the water. She loved it. Then Steven, me, and Trinity went to my sister's house to eat because they invites us to a cook out that they were having. Me and Trinity jumped on their trampoline. Trinity loved that too!
After we left there, Trinity, me, and my niece Hannah went swimming.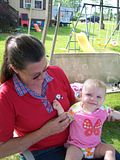 It was Trinity's first time.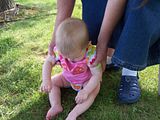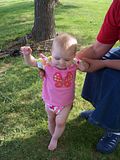 At first she cried but then she got used to it.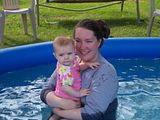 She wouldn't let go of me until we got her rubber duckie and let her play with it. I think swimming wore her out because she went to sleep after my mom got her out and fed her.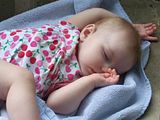 It's been a beautiful day. God has blessed us in so many ways. It's raining right now, but I'm thankful for the sunshine that we've had!